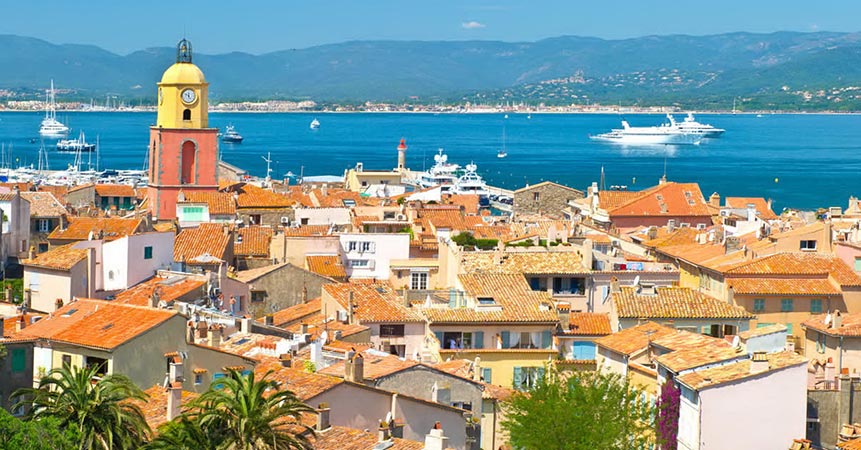 The myth of Saint-Tropez
Saint-Tropez is a countryside by the sea, as Giorgio Imparato, Director of BARNES Saint-Tropez, puts it so well. But it's true, despite its illustrious reputation, this small fishing village has managed to remain authentic and unique.
The peninsula of Saint-Tropez is far from the effervescence and urbanization of the French Riviera's big cities. Les Tropéziens seek out the beauty of the Provençal countryside, tranquility, and that festive atmosphere the village is so well-known for whenever the mood calls. Villas in Saint-Tropez respect traditional Provençal architecture. On the other hand, contemporary-style houses are a rarity in the region and therefore have a harder time finding buyers.
What's the real estate market like in Saint-Tropez?
With 22 years of experience in the luxury real estate market in Saint-Tropez, Giorgio Imparato notes a big improvement in the market over the last 2 years. Interest in Saint-Tropez is rising once again, with buyers from Germany, Scandinavia, Holland, Belgium, and United States - less so from Russia for political reasons. This demanding clientele is willing to spend millions of euros on a third or even fourth residence. Transactions can be time-consuming, but the BARNES team and notaires or French lawyers are willing to work with potential buyers to ensure the compliance of all rules and regulations for property acquisitions and planning.
What are the most in-demand properties?
Many types of properties in Saint-Tropez are very popular with our wealthy clientele. Of course, there are the villas, priced between 2 and 5 million, in walking distance to the village. Then there are the fishing houses in the old village of La Ponce and apartments by the mythical port. Prices for these residences vary between 10,000 to 30,000 euros per m2 (on the steeper end for a sea view, terrace, and/or garden).
The strong demand for bastides (Provençal farmhouses) or houses in the countryside comes as no surprise. Their architecture is well-preserved and authentic to the region, all the while hiding luxuries of modern comfort inside. Prices fluctuate depending on the view - sea or countryside - but BARNES Director Giorgio Imparato gave us an estimation: A residence with a countryside view, count between 5 and 10 million euros; for a beautiful panorama of the Mediterranean Sea, anywhere from 10 to 25 million euros. The Parcs de Saint-Tropez, the Treilles de la Moutte, and the Capon are - and have always been - private domains or neighborhoods favored by wealthy investors. Giorgio also told us that prices in the neighboring town of Ramatuelle are a little lower.
What about the rental market?
The rental market in Saint-Tropez is thriving. Our team is strongly involved in the development of this sector. They noticed that owners who rent out their homes tend to put it on sale, because tenants are known to fall in love with life in Saint-Tropez and eventually decide to buy. As a matter of fact, some tenants even end up buying the villa they rented in the summer.
Rentals are, on average, taken over for 2 to 4 week periods, ranging from 10,000 to 20,000 euros or more (per week). A little confidence: One beautiful villa was rented at a staggering price of 1 million euros per month. Saint-Tropez is truly unique with an ambiance like nowhere else in the world. The most beautiful yacht, cars, villas, and the most influential personalities on the planet can be found on the port alongside tourists.
The BARNES agency and its multilingual team dedicated to rental properties and services cater to the exigent tenants of Saint-Tropez. The customized concierge system offers a number of high-end services: driver, chef, 24-hour surveillance and bodyguards, boat with crew, babysitting, etc.
© Les Confidences De BARNES - published on Barnes Saint-tropez on 09/05/2019
Read this article in its integrality by clicking on the following link:
https://www.barnes-international.com/fr/les-confidences-de-barnes/saint-tro...